Play Pickleball NOW at Hitters SportsPlex
Never Heard of Pickleball?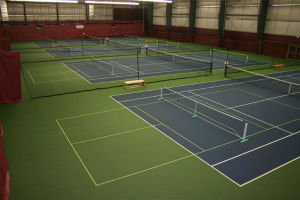 Pickleball is a combination of ping-pong and tennis. It uses paddles and a unique plastic ball (similar to a whiffle ball) and is played on a badminton-sized court. Pickleball is an enjoyable sport that is easy for beginners to learn but can develop into a quick, fast-paced, competitive game for experienced players. The world's fastest growing sport provides plenty of exercise and can be played socially or competitively.
Watch a video from CBS News
or this video from WISC about this fun sport!
We are offering several options for you and your whole family to participate in Pickleball
Pickleball will be available at Hitters 7 days a week, both daytime and evenings.
Stop into Hitters SportsPlex today to make a reservation or sign up for a professional clinic.
If you have any questions about Pickleball, please contact Joel Tennis by email.